Contact Us
Main Office
Audiosears Corporation
2 South Street
Stamford, NY 12167 USA
(607)652-7305 | (800)533-7863 (Toll Free) | (607)652-3653 (Fax)
Hours
Audiosears' offices are generally open from 8:00 AM to 5:00 PM Monday - Friday, Eastern Standard Time (EST) at our main facility in Stamford, NY. However, you may email or call us anytime if you wish to leave a message for specific members of our staff.
We observe most common US holidays, on which our facilities are closed for the day. These are generally New Years' Day, Easter Sunday, Memorial Day, Independance Day, Labor Day, Thanksgiving Day (2 days total), and Christmas Day (2 days total). Holidays falling on weekends are generally observed during an adjacent Friday or Monday.
Employment
From time to time we are in need of temporary, part and/or full time employees. We occasionally have job openings posted on the Career Opportunities page, but you can otherwise inquire to "Employment" using our General Contact Form here.
News Briefs
4/10/2018
Rep Faso Tours Audiosears
Our US Congressman John Faso (NY 19th) toured Audiosears this week, and met with employees to discuss our operations and challenges for the future.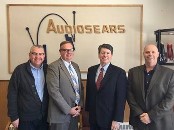 3/15/2018
Audiosears will attend NFPA exhibition
Audiosears will be exhibiting at this year's NFPA 2018 Conference & Expo in Las Vegas, NV June 11-14!