Industry Standard and Custom Manufacturing
Leading the Industry for over 50 Years
Audiosears is the premier manufacturer and supplier of handsets, headsets and components for the telecommunications industry. Our products include handsets, cradles, headsets, handheld microphones, acoustic elements and a variety of components including cordsets, switches and custom circuitry.
Fully Integrated Manufacturer
Our in-house capabilities include engineering, machining, custom fabrication and electronic/mechanical assembly. Strong relationships with industry partners enable us to offer turn-key solutions for our customers.
Customized Solutions
Audiosears has the capability to supply standard and customized products in both low and high volume runs to meet your specific requirements. Customization can range from simple modifications to complete product development.
News Briefs
4/10/2018
Rep Faso Tours Audiosears
Our US Congressman John Faso (NY 19th) toured Audiosears this week, and met with employees to discuss our operations and challenges for the future.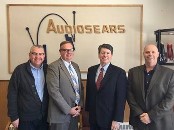 3/15/2018
Audiosears will attend NFPA exhibition
Partnering with the Stamford Golf Club, Audiosears helped raise money for children to participate in the Headwaters Soccer Camp held at Minekill State Park.